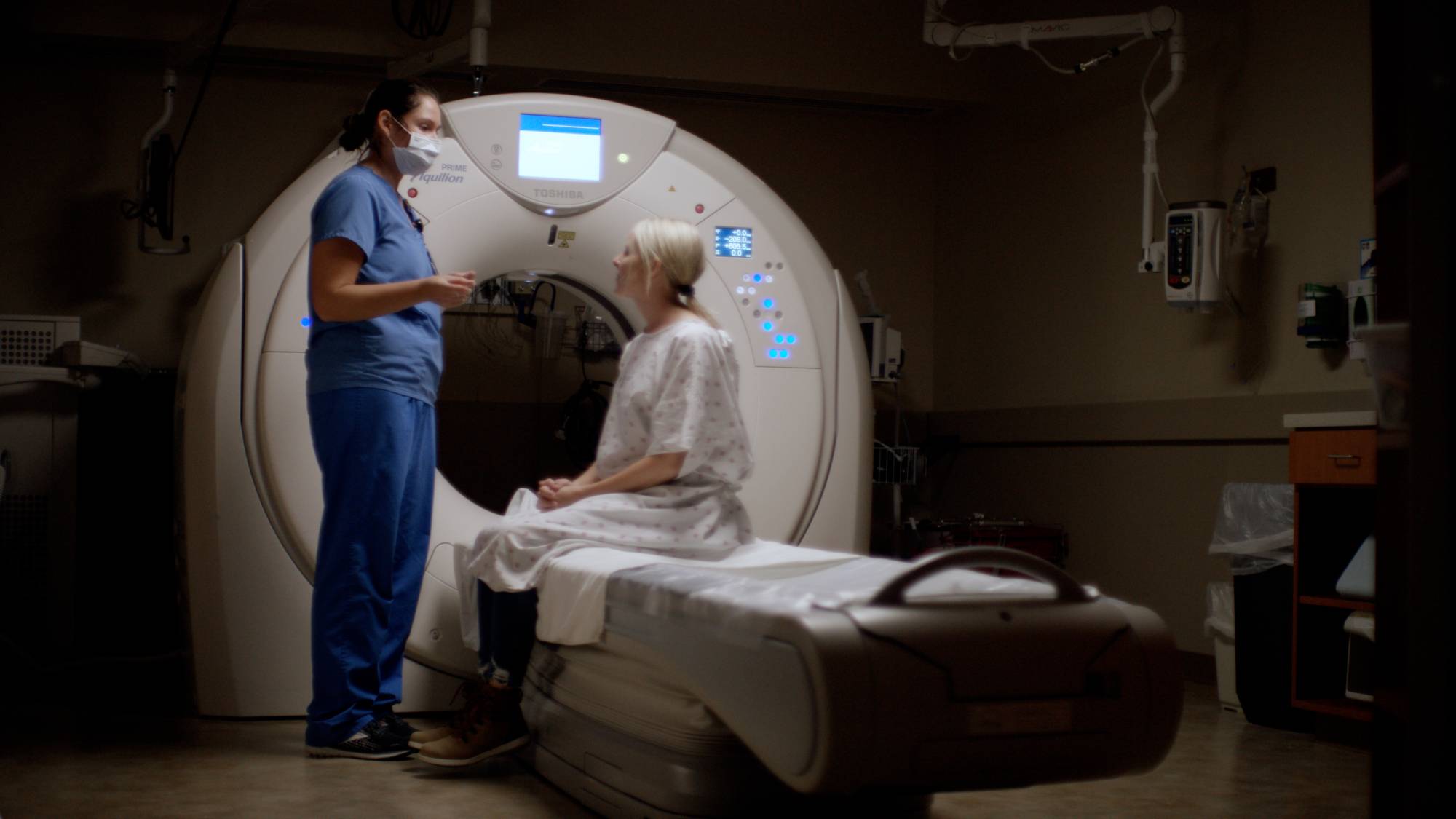 Prairie Lakes Healthcare System uses sophisticated imaging technology that gives doctors the detailed information needed for early diagnosis and treatment -- without sending patients to other cities for these services.
In addition to general diagnostic, operative and emergency room X-rays, our Radiology Department offers imaging technology that can peer into your bones, your arteries and veins, soft tissues and organs. We can help you see your unborn baby, and help predict whether you might be prone to heart problems or a stroke. Technology includes:
CT Whole Body Scans – Computerized Tomographic (CT) scanning provides rapid, high resolution scanning of the head, chest, abdomen, and extremities by applying computer technology to medical X-rays. The scanner is primarily used to detect tumors, infections, and vascular diseases. It is also valuable in the planning and follow-up of patients selected for radiation therapy of known tumors. Prairie Lakes offers Target Heart screenings to measure calcium deposits, a risk factor for a heart attack.
Magnetic Resonance Imaging – MRI is a way to take pictures of the body and its chemical make-up. It is primarily used to image the brain, spine, and joints. Prairie Lakes's unit offers a shorter scanning time and a more detailed study.
Nuclear Medicine – We use harmless amounts of radioactive isotopes injected into the body. This material either collects in or avoids body tissue associated with particular diseases. The camera shows us where that material is accumulating.
Ultrasound – Prairie Lakes' advanced 3D/4D ultrasound unit provides expecting parents and physicians new levels of clarity, accuracy, and precision. It is used for obstetric/gynecologic, abdominal, heart, and vascular applications. Stroke Screen is an ultrasound screening available; it detects a patient's risk of stroke.
Our Doctors
Prairie Lakes Healthcare System partners with Consulting Radiologist Ltd. (CRL) for radiology services. This means Prairie Lakes has access to approximately 80 radiologists trained in subspecialties such as Diagnostic Neuroradiology, Interventional Neuoradiology, Diagnostic Radiology, Interventional Radiology, Musculosketal Imaging, Nuclear Medicine, Pediatric Imaging and Breast Imaging.
CRL's general and subspecialty radiologists bring years of experience to patients in both diagnosis and intervention. CRL provides 24/7 coverage for the Prairie Lakes Radiology Department.