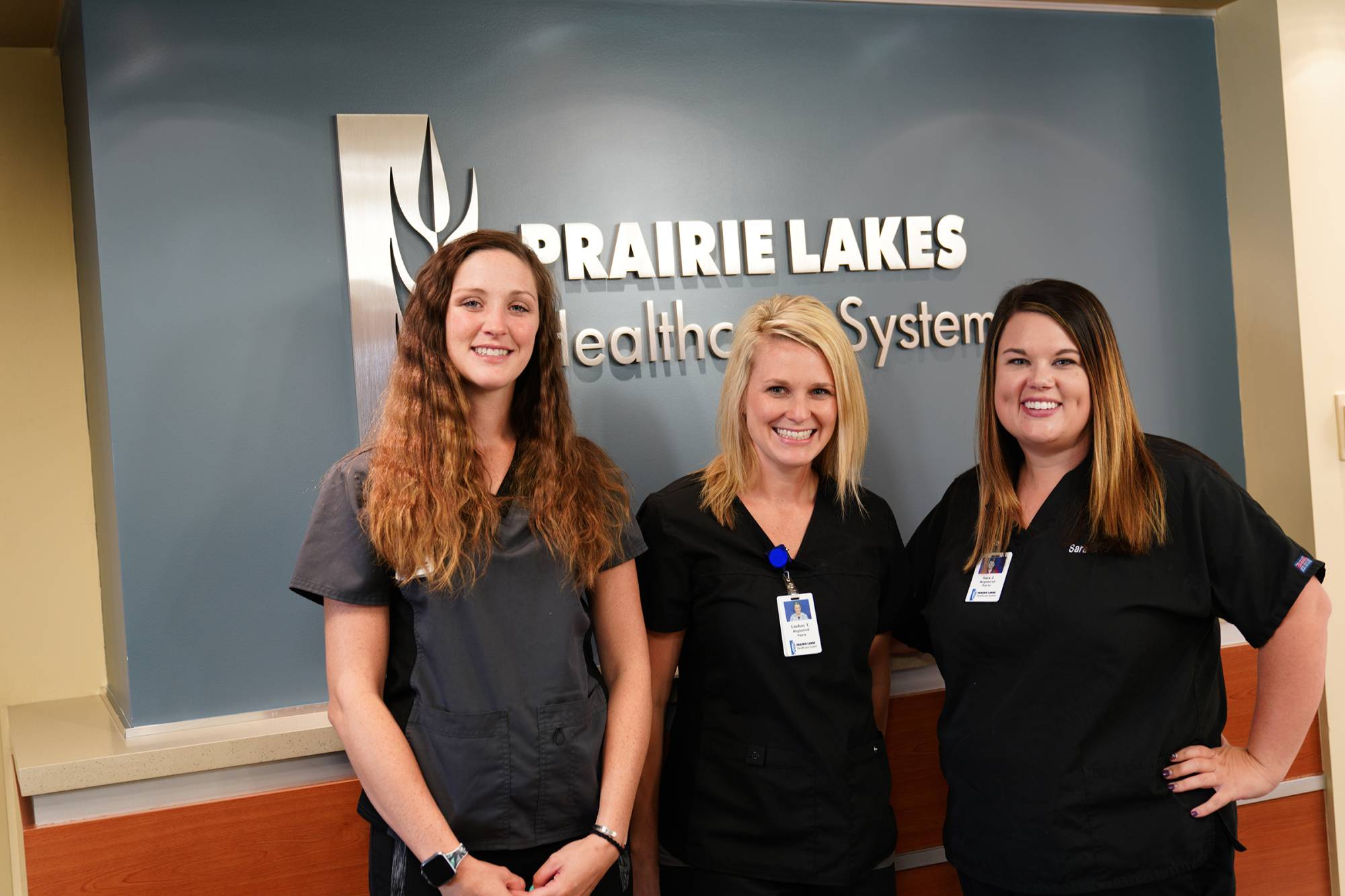 Trained wound care nurses at Prairie Lakes Healthcare System evaluate patients in the inpatient and outpatient settings and make individualized plans of care to ensure patients have the best outcomes possible.
Have you recently had surgery that left you with an open wound or ostomy?
Do you have chronic wounds or ulcers that will not heal, including painful ulcers or swelling in your legs?
Have you lost hope that your wound will ever heal?
If you answered yes to any of these questions, then you could benefit from our wound care services.
What We Treat
Including, but not limited to, these types of wounds:
• Acute wounds
• Chronic wounds (including wounds present for years)
• Diabetic wounds
• Burns
• Surgical wounds
• Traumatic wounds (caused by falls, accidents, skin tears, etc)
• Excessive swelling of the legs
• Arterial and venous wounds
• Pressure ulcers (bed sores)
• Ostomy care (troubleshooting/refitting ostomy appliances/education pre and post op/pre op markings)
Our Team
Prairie Lakes Health System provides expertise in wound care through a collaboration of physicians, nurses, physical/occupational therapists and dietitians to deliver care for patients with acute and chronic wounds. The wound care team collaborates with specialists like podiatrists, hospitalists, vascular, general and orthopedic surgeons to recommend diagnosis and treatments that treat wound pathology and underlying conditions.
Schedule an Appointment
Contact your primary care physician and have them send an order to Prairie Lakes Central Scheduling. Ask your physician to include with the order:
• Medications you are currently taking
• Previous surgeries
• Any history that would be pertinent to the issue for which you are being seen
Central Scheduling:
Fax: 882-6704
Phone: 882-7690
Prairie Lakes Wound Care serves outpatients on the second floor of the hospital. Appointments are available Monday - Friday 7:30 am to 3:30 pm.