Main Entrance Hours: 7 a.m. to 9 p.m., all days.
ER Entrance Hours: 24 hours a day, all days.
Patient Visiting Hours: 605-882-7000
Campus Directions:
Please reference the detour map for 10th Ave construction starting April 19, 2021: pdf 10th Ave Construction 2021 Prairie Lakes Access Map 04 08 2021 (341 KB)
Campus Map (does not show detour):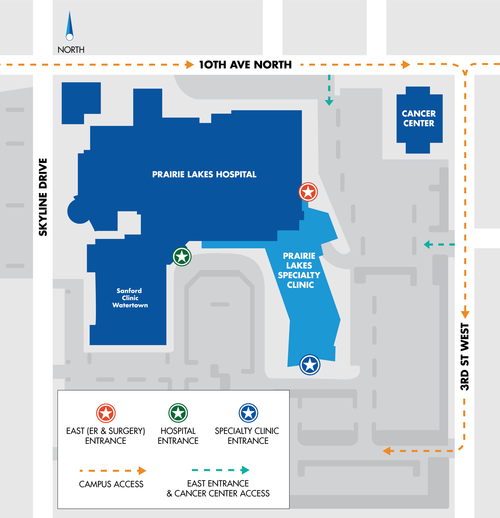 1st Floor:
Critical Care
Emergency Services
Laboratory
Pharmacy
Radiology
Respiratory Services
Surgical Services
2nd Floor:
Nutritional Services
Obstetrics
Pulmonary Function Testing
Sleep Studies
Telemetry
Wound Care
3rd Floor: Inpatient Services (Med/Surg/Peds)
4th Floor: Dialysis
Medical Office Building:
Lower Level: Cardiac and Pulmonary Rehab and the Conference Center
2nd Floor: Vascular (Outreach)
Phone Numbers & Hours:
Cardiac and Pulmonary Rehab Hours: 605-882-7853
6:30 a.m. to 4 p.m. M, W, F
7 a.m. to 4 p.m. T, Th
Please ask for assistance to Rehabilitation Services at the desk in the Main Lobby. Cardiac and Pulmonary Rehab is located in the Medical Office Building, lower level.
Central Scheduling Hours: 605-882-7690
Schedules surgical procedures and appointments for wound care and radiology.
Dialysis Hours: 605-882-7905
5 a.m. to 5 p.m. M, W, F
6 a.m. to 10:30 a.m. T, Th, S
Located on the fourth floor of the hospital.
Home Health, Hospice, and Home Connections: 605-882-7745
Based out of the hospital
Laboratory Hours: 605-882-7750
Walk ins welcome 8 a.m. - 5 p.m. M-F
Appointments are available by calling
Located on the first floor of the hospital. A secondary location is in Prairie Lakes Specialty Clinic.
Nutritional Services: 605-882-7874
Please call for assistance
Pharmacy Hours: 605-882-7980
The Campus Pharmacy is located just off of the Main Lobby.