Prairie Lakes Healthcare System and Watertown Area Breast Cancer Support Group jointly announce their sixth annual Celebrating Life event! Celebrating Life is a breast cancer awareness event typically held in person every October. Due to the pandemic, the groups decided it is best to take the free awareness event online and expand activities to last all October long.
Nicole Phillips is a speaker, author, podcast host, and breast cancer survivor. Years ago, Nicole was an expert in negativity. Whether toward herself, her family or her fellow drivers, she was quick to see the bad side of every situation. When she gifted some money to a young mom, she didn't expect it to change her view on life and unlock the power of kindness.
The author of Kindness Is Contagious and Kindness Is Courageous, Nicole is releasing her new book The Negativity Remedy: Unlocking More Joy, Less Stress, and Better Relationships Through Kindness. In the book, Nicole explores the "inner meanie" tendency and how to combat it through being kinder to ourselves and to those around us.
DDR Books is hosting a book signing with Nicole on Thursday, October 1, Noon – 1 p.m. to help kick-off Breast Cancer Awareness Month and bring the message of kindness to Watertown. You will then have the opportunity to join Nicole, Prairie Lakes Healthcare System and Watertown Breast Cancer Support Group LIVE on Thursday, October 15 at 7 p.m. for the virtual Celebrating Life event.
The Watertown Area Breast Cancer Support Group helps women with breast cancer in the Watertown area through emotional and financial support. Financial support includes donations to patients with breast cancer who need assistance and also includes a partnership with Prairie Lakes Healthcare Foundation through the "Pay It Forward" Fund, which is an opportunity for breast cancer patients to receive assistance paying their bills, related to their breast cancer diagnosis, at Prairie Lakes Healthcare System.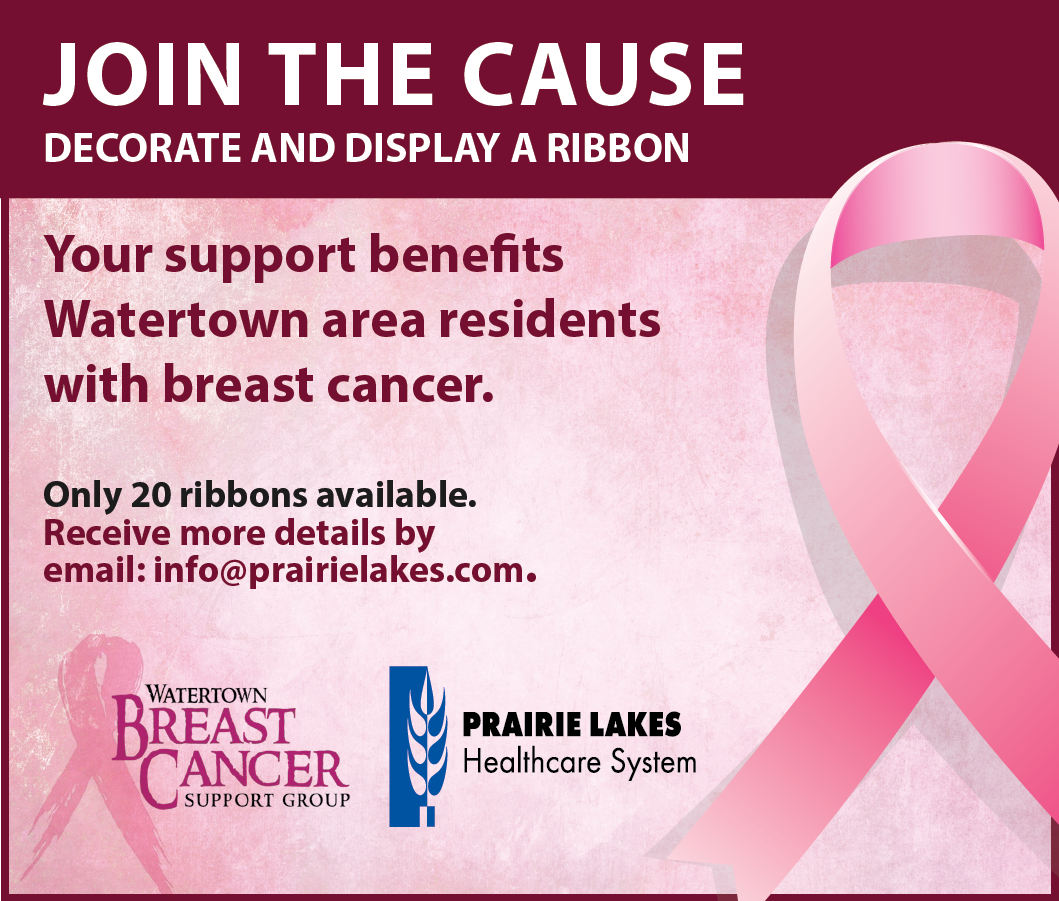 Local businesses are encouraged to contact This email address is being protected from spambots. You need JavaScript enabled to view it. to receive an 18 inch tall foam pink ribbon, donated by Benchmark Foam, to decorate and display during the month of October. The display will include a donation box to raise funds for the Watertown Area Breast Cancer Support Group. Each dollar will equal one vote for that decorated ribbon. This support is especially important because the Group was unable to hold their annual fundraiser due to the pandemic.
October Check List:
This October there are multiple ways to support breast cancer awareness and join the community supporting those battling and recovering from breast cancer.
October 1, Noon – 1 pm

Spread kindness and attend a book signing with Nicole Phillips at DDR Books.

October 15, 7 pm
October 1 – 31

Tour the decorated pink ribbons around town and vote for your favorites by donating to the Watertown Breast Cancer Support Group. Locations of ribbons will be available October 1 at prairielakes.com.
Ribbon Locations:

KXLG
First Bank & Trust
Coteau Chic Boutique
HealthSource Chiropractic
Big Stone Therapies
First Premier Bank (both locations)
Salon 2000
Watertown Radio
Head to Toe Massage and Spa
The Good Buy Gals
Dacotah Bank
Ameriprise Financial Services, LLC
Watertown Family Eyecare
Dempsey's Brewery Restaurant & Pub
Bella Hair Studio
Makepeace Jewelers
Watertown Intermediate School
Sioux Valley Coop Federal Credit Union
Montgomery's