Prairie Lakes Healthcare System (PLHS) is proud to announce Prairie Lakes Home Health has been recognized by Strategic Healthcare Programs (SHP) as a "Superior Performer" for achieving an overall patient satisfaction score that ranked in the top 20% of all eligible SHP clients for the 2018 calendar year.
The annual SHPBest™ award program was created to acknowledge home health agencies that consistently provide high quality service to their patients. The 2018 award recipients were determined by reviewing and ranking the overall satisfaction score for more than 2,900 home health providers.
Prairie Lakes Home Health serves residents in Codington, Clark, Hamlin, Grant, Deuel, Day, and Roberts counties. Services include nursing care, therapy services, social services, and personal care.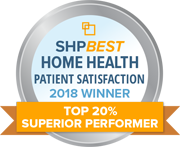 "There are many benchmarks that measure the quality of the care and service that home health agencies provide, and one of the greatest honors is to be recognized for excelling in patient satisfaction", said Julie Sampson, Home Health and Hospice Director. " The Prairie Lakes Home Health staff is dedicated to caring for patients in the comfort and privacy of their homes. Their compassion and expertise make us one of the best in the nation; I am proud and grateful to work with this wonderful team."
About Prairie Lakes Home Health
About Strategic Healthcare Programs (SHP)
Strategic Healthcare Programs (SHP) is a leader in data analytics and benchmarking that drive daily clinical and operational decisions. Our solutions bring real-time data to post-acute providers, hospitals, and ACOs to better coordinate quality care and improve patient outcomes. Since 1996, SHP has helped more than 7,000 organizations nationwide raise the bar for healthcare performance.