Prairie Lakes Healthcare System is one of the first facilities in South Dakota to implant a new miniaturized, wireless monitoring sensor to manage heart failure (HF). The CardioMEMS HF System is the first and only FDA-approved heart failure monitoring device that has been proven to significantly reduce hospital admissions when used by physicians to manage heart failure.
Dr. Maaliki, Interventional Cardiologist, implanted the first CardioMEMS sensor on Wednesday, April 29th in a patient's pulmonary artery (PA) during a non-surgical procedure to directly measure PA pressure. Increased PA pressures appear before weight and blood pressure changes, which are often used as indirect measures of worsening heart failure. The new system allows patients to transmit daily sensor readings from their homes to Prairie Lakes, allowing for personalized and proactive management to reduce the likelihood of hospitalization.
"Being one of the first facilities in the state to introduce this new heart failure monitoring technology demonstrates Prairie Lakes' progressive vision to provide state-of-the-art care in our region," said Jill Fuller, CEO. "Our cardiology team is committed to providing innovative new technology that is proven to improve patient outcomes."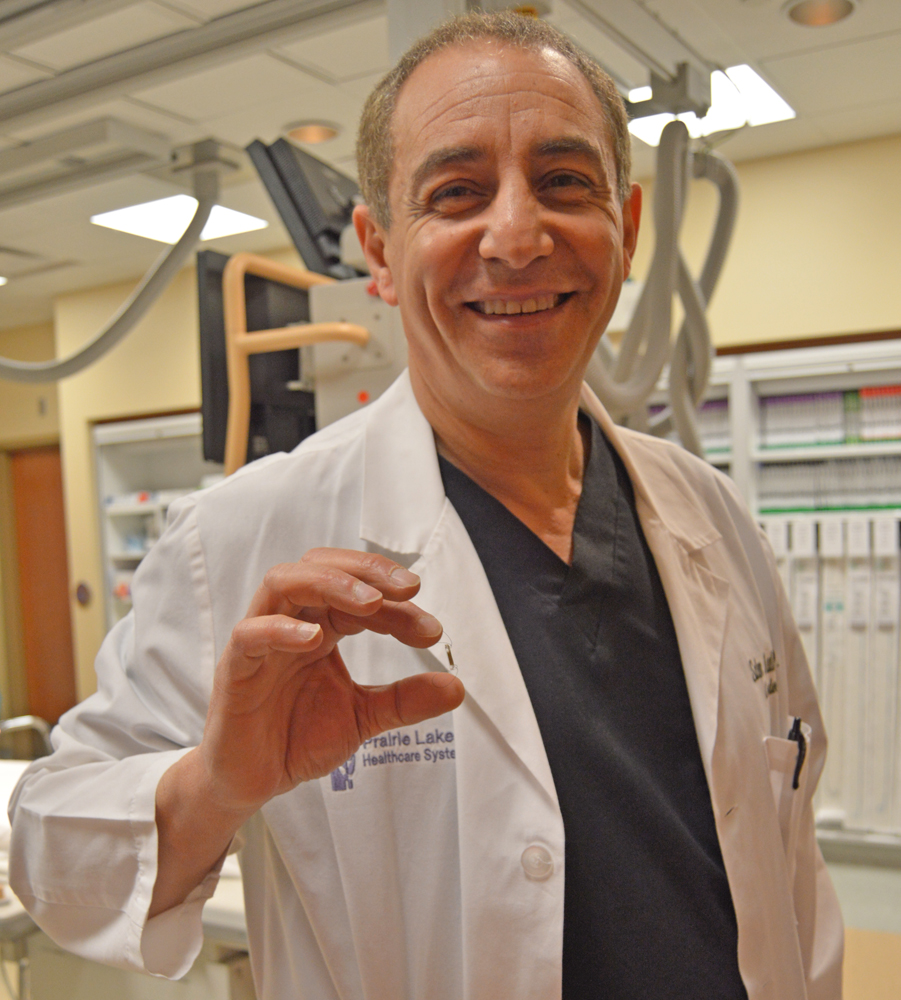 Prairie Lakes brought the CardioMEMS HF System to the region in response to the high rate of heart failure patients that require medical attention. Heart failure occurs when the heart is unable to pump enough blood to meet the body's demands. According to the Centers for Disease Control and Prevention, more than 5.1 million Americans have heart failure, with 670,000 new cases diagnosed each year. Patients with heart failure are frequently hospitalized, have a reduced quality of life and face a higher risk of death. According to the American Heart Association, the estimated direct and indirect cost of heart failure in the U.S. for 2012 was $31 billion and that number is expected to more than double by 2030.
"The CardioMEMS sensor is designed to last the lifetime of the patient and doesn't require a battery. Data from a clinical trial showed that the CardioMEMS technology reduces heart failure hospital admissions by up to 37 percent," said Leah Lê, Cardiology and Cath Lab Director. "The remote monitoring reduces the patients' chances of being readmitted to the hospital, but most importantly improves their quality of life."
*Photo above is Dr. Maaliki holding the CardioMEMS sensor in the Prairie Lakes Cath Lab.*