Rick Bruns has a larger-than-life personality and a wide smile that will brighten any room he strolls into.
That smile faded on February 3rd, 2021, ironically on Rick's birthday, when he was diagnosed with Non-Hodgkin's lymphoma—a condition that occurs when the body produces too many abnormal lymphocytes, a type of white blood cell.
Hearing the diagnosis for the first time rocked Rick and his family to the core—there were so many questions, so many concerns, and so much fear.
Within days, Rick stepped into the Prairie Lakes Cancer Center for the first time feeling overwhelmed and scared, but immediately felt a feeling of peace and calmness come over him. "There was Kelly at the front. She welcomed me to the Cancer Center. I expected complete chaos, but there was just calm. Steph and Kelly always explained what was going on and answered all of my questions. This brick and mortar building could be anything, but it's the people that make it the Cancer Center," said Rick.
Rick contributes beating cancer to his positive attitude, his wife and three daughters that cheered him on, and knowing he has grandchildren—his newest, his first grandson, born just eight months ago— waiting for him to regain his energy and start making more memories with them. "They were a big part of my journey. My wife was able to go to every appointment with me and my daughter would put up balloons and signs after every chemo appointment. I had an incredible support system which is as important as anything."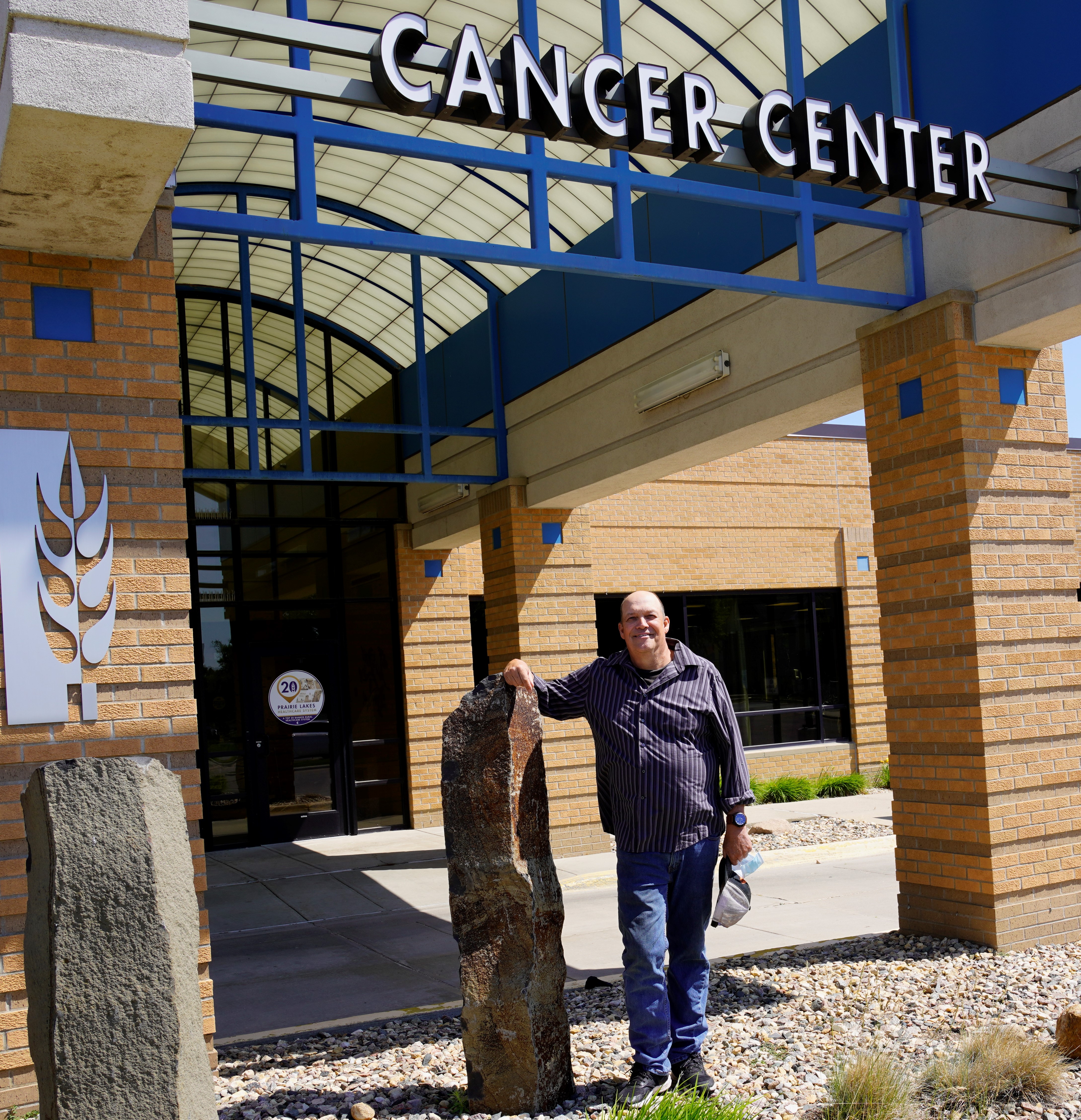 Rick felt so fortunate to have the Cancer Center right here in Watertown. He said, "The facility is remarkable, and if I had to come in for extra fluids during the week, which I did often, it was just a quick trip up from Bradley. Then I felt a lot better and was able to get home to play with my granddaughters that just live across the street."
He also adds, "If you can get your cancer treatments done in Watertown, do it! For the simple fact that the people here care. You aren't just a patient number. They care about you, your treatment, and your family. We became friends. Plus, everything else you need is right here. It's so convenient, you don't have to travel. It's a calm place when you need calm."
Now, Rick is giving back. He is sharing his story hoping to help people feel more comfortable with a cancer diagnosis. "It doesn't have to be a death sentence anymore. That's where everybody's mind goes at first, but it's not like it was 30 years ago. The best piece of advice I got was from Steph when she said, 'Don't fight the chemo, let the chemo fight the cancer. Your only job is to provide the battlefield.' Rest when you need to. If you feel tired, sit down. If you feel more tired, lay down. Let the chemo do the work."
Now that Rick's energy is rebounding, he looks forward to spending a lot of time with his grandkids. He says, "If you can put a memory into their mind, they'll have that forever. That's the priority I have now. I'm not going to be working as much. I'm going to spend as much time with my family and my grandbabies as I can. The race for wealth is over for me, and you know what? I don't think I've ever felt as content as I do now in my life."
For those just hearing their own cancer diagnosis for the first time, Rick reminds you, "There's hope. Every cancer is different, but there is always hope. You have to stay as positive as you can. It'll be difficult, but you're going to be alright."
The Prairie Lakes Cancer Center is committed to providing patients with innovative treatments and caring support. We come together for courageous fighters who inspire us daily. Our approach to healing is holistic and interdisciplinary. If you have any questions, or would like more information, visit the Cancer Center webpage here.
If you or somebody you love was recently diagnosed, is in the middle of a cancer journey, or have survived and would like to connect with others within our community, our Cancer Support Group meets the 3rd Thursday of every month at 3:00 p.m. For more information, click here.