During this time of community, connection, and giving thanks please consider giving blood during the next Prairie Lakes Healthcare System Blood Drive in partnership with Community Blood Bank! The Blood Mobile will be parked outside of the Prairie Lakes Specialty Clinic from 8:00 am to 3:30 pm.
Did you know, when you donate through Community Blood Bank all the blood stays within your community. A safe, cost-effective supply of blood is delivered to local hospitals, like Prairie Lakes Healthcare System. If you or someone you know receives blood or blood products from medical treatment, it likely came from a Community Blood Bank blood drive just like this one!
Join us to donate blood on Monday, November 14th from 8:00 a.m. to 10:30 a.m. and again from 12:00 p.m. and 3:00 p.m., check-in is in the Prairie Lakes Specialty Clinic main lobby.
Update: Community Blood Bank will be giving all donors a $5 Scooters Coffee gift card!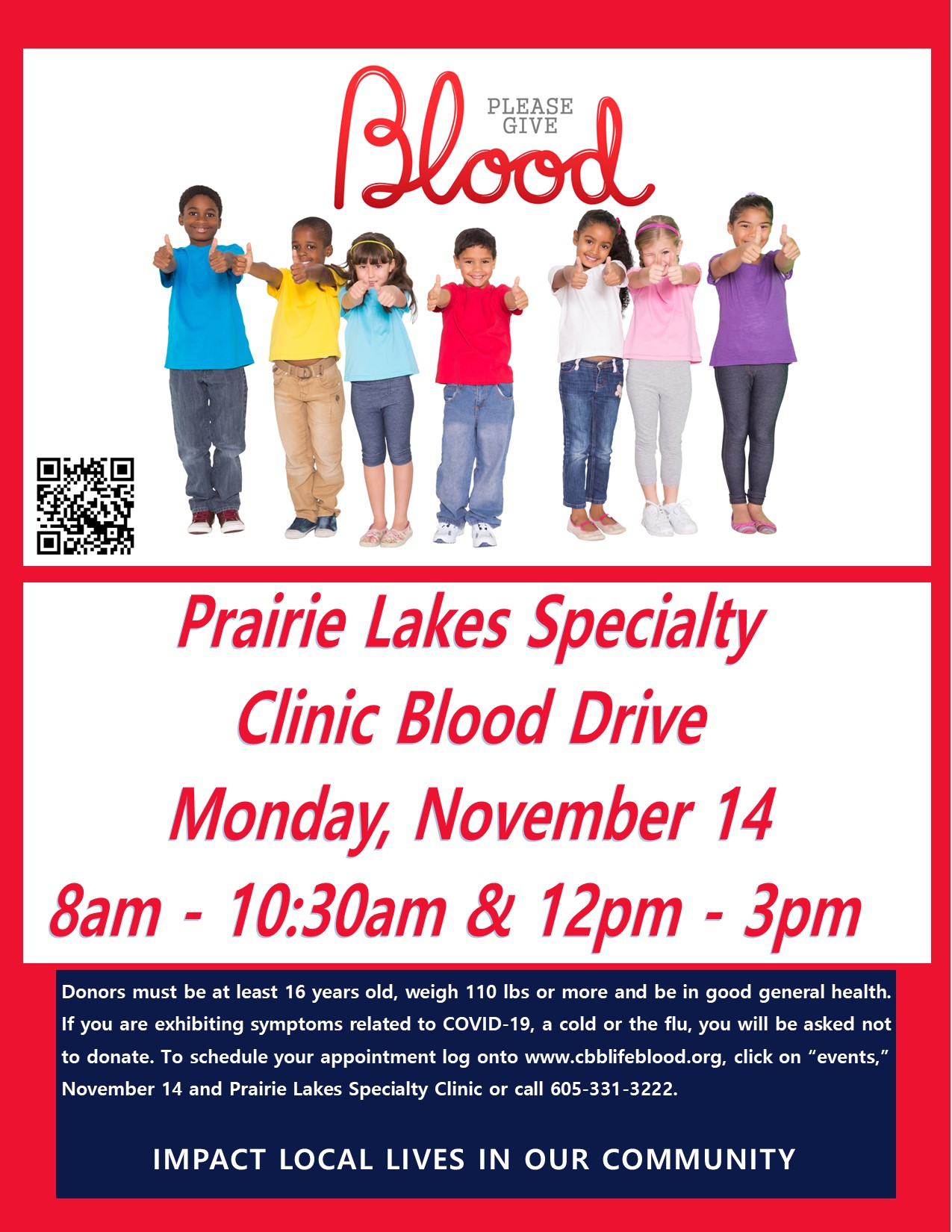 Guidelines to Donate:
Blood donors must be at least 17 years old (16 years old with a signed parent consent form found at www.cbblifeblood.org) weigh 110 pounds or more and be in good general health.
Donors exhibiting cold or flu symptoms are unable to donate.
Valid identification is required at the time of registration.
It is recommended that a person eat and drink plenty of fluid prior to donating blood.
Online sign-up is preferred to help with social distancing
Walk-ins will be accepted, if there is room or a cancellation – staff on event day will manage this process
When donating on the Bloodmobile, masks are optional despite vaccination status (*Masks are required during the check-in process in the Prairie Lakes Specialty Clinic)
The donor will be asked to read the Covid-19 questions at the registration table