Did you know as many as 1 in 3 American adults will have diabetes by 2050 if present trends continue? Many live with or know someone who lives with diabetes. We encourage you to know the facts and help beat diabetes.
"In March of 2016 I "celebrated" my 30 year anniversary of being a Type I diabetic. The disease has exposed me to many opportunities to work with diabetics and their families, helping them understand that their diagnosis is not the end of the world if well-managed. I am truly blessed and grateful for a great medical team, a super-attentive family, co-workers and friends who recognize the signs of high and low blood sugars. As my diagnosing physician told me in 1986, "Don't let diabetes control you, you control it." These are words to live by everyday!" – Alison Gilbertson, Prairie Lakes Healthcare Foundation Director.
Beat Diabetes!
Eat Healthy
Click here for a sweet and spicy pork tenderloin recipe that is dietitian approved! Find more healthy recipes from the American Diabetes Association.
Keep Physically Active
The Perfect Squat, by Prairie Lakes Rehab Team: Wide stance targets hamstrings & gluts. Narrow stance targets quads.
Hinge at your hips like sitting in a chair
Knees behind toes
Weight on your heels
Back straight; Abs tight; Chest up
Alignment of hip, knee & big toe
Don't let knees cave inward
Take Prescribed Medicines
Read: How to Read Your Prescription Bottle
Know the Facts
Key Facts about Diabetes, provided by Beth Ries, Certified Diabetes Educator
Almost 30 million children and adults in the United States have diabetes
86 million Americans have pre-diabetes
1.4 million Americans are diagnosed with diabetes every year
Diabetes is the primary cause of death for 69,071 Americans each year. The risk of death for adults with diabetes is 50% higher than for adults without diabetes.
Information from the CDC and American Diabetes Association.
Do you or someone you know have diabetes? Beth Ries coordinates a Diabetes Support Group the second Thursday of every month September - May.
Read more: Kidney Myths | Diabetes Myths
Living with Diabetes: Going Low | Insulin Myths | Living by Yourself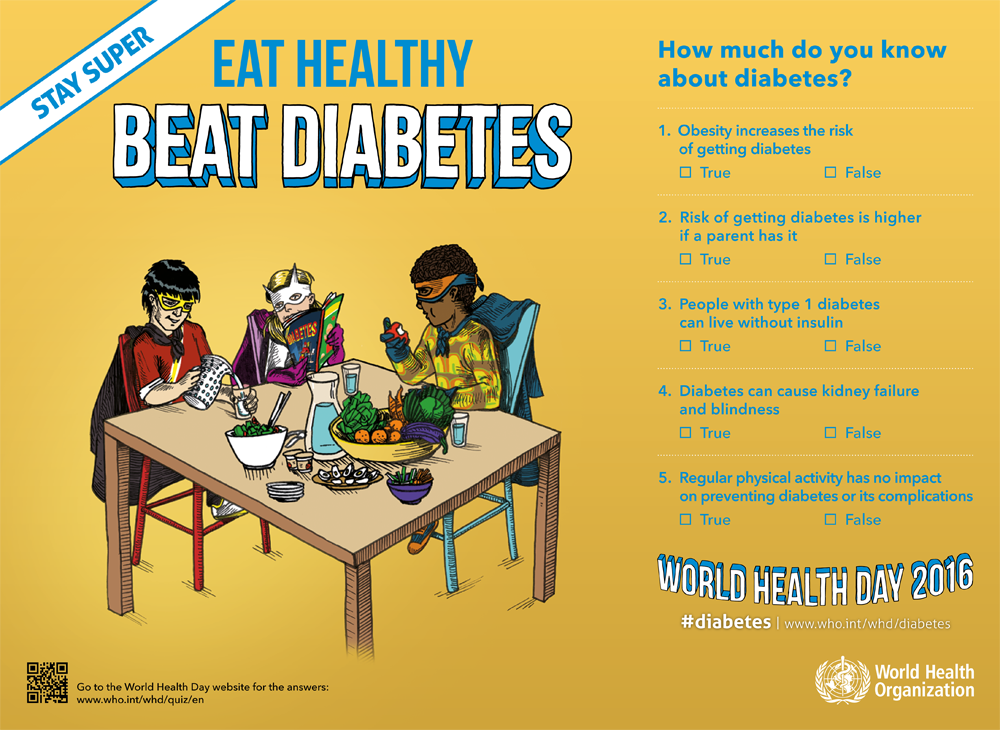 ---
Graphics provided by the World Health Organization