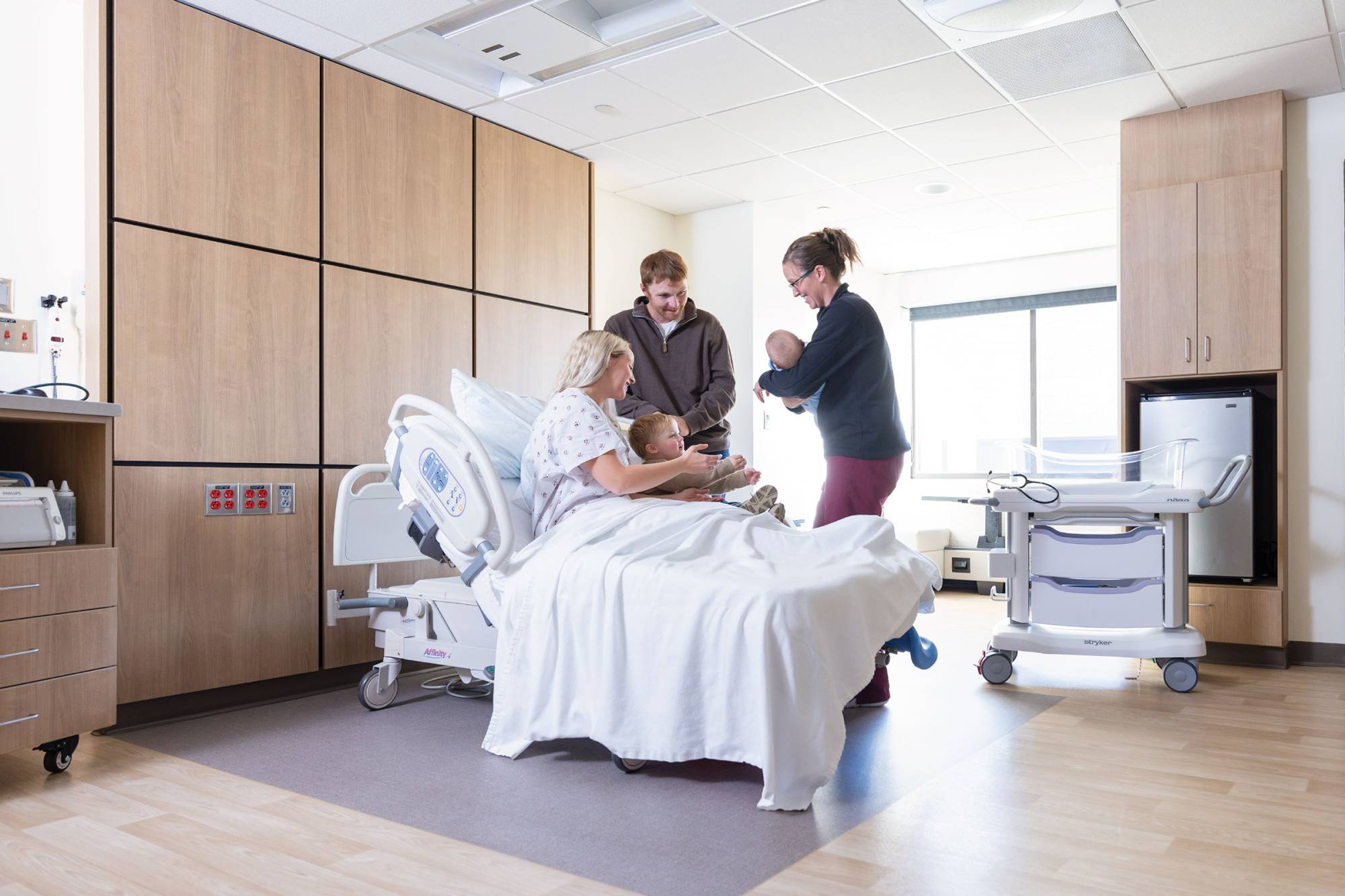 About 600 babies are welcomed into the world at Prairie Lakes Hospital each year. We specialize in making the birthing experience happy and memorable for everyone involved. Our Obstetric Services staff of skilled professionals not only care for you and your baby during your labor experience, but provide free education to new parents before and after the baby is born.
Preparation at Prairie Lakes Healthcare System begins with free prenatal education and childbirth classes, which are offered throughout the year by certified childbirth educators. Fetal diagnostic testing, such as non-stress testing, ultrasound and amniocentesis, is also available. When it's time for baby to arrive our obstetrics department offers one-to-one caring.
All-in-One Birthing Suites
Prairie Lakes Healthcare System's birth program is based on the concept of one-to-one caring for mother and baby. Operating 24 hours a day, 7 days a week, our ten all-in-one birthing suites are specially equipped to accommodate the entire labor, delivery, recovery, postpartum (LDRP) process. This creates a relaxed atmosphere where parents can welcome their new child in a comfortable setting. Beyond that, the spacious room has these amenties:
Sleeper sofa
Recliner
Rocking chair
Refrigerator
TV with a DVD player
Private bathroom with a whirlpool tub
One-to-One Nursing
When you arrive at the hospital, one nurse will be assigned to stay with you through the process of labor and delivery. The nurse will assure that your needs are met and that you have the support you need.
In this short video, RN Kara Hoftiezer shows you what you can expect to see at the Prairie Lakes Obstetrics Services department.
Going Home
After baby arrives, mothers have the benefit of other free programs. Our certified lactation consultant helps with breastfeeding questions and our car seat specialist ensures the little one is ready for the ride home.